<!******* 1 TAB NAVIGATION START******>
Back to the top
<!#450IMAGESTART>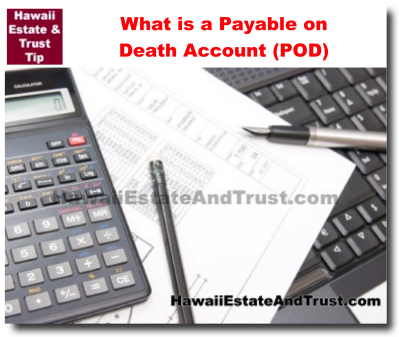 <!#450IMAGEEND>
<!#43START>
What is a Payable on Death Account (POD)?
A Payable on Death Account (POD) is an arrangement with your bank to designate a beneficiary on your bank account. After the death of the bank account owner, the beneficiary can succeed to the funds in the account by completing an Affidavit (provided by the bank) and showing his/her identification, e.g. a passport or driver's license to the bank.
The Payable on Death Account (POD) is sometimes referred to as a "Totten Trust" or "ITF" (short for "In Trust for").
A Payable on Death Account (POD) helps avoid probate
By designating a beneficiary on one's bank account during his/her lifetime, the owner can avoid probate when he/she dies, as the bank will be able to cut a check to the beneficiary for the funds in the owner's bank account without the account having to go through the court probate process.
Conclusion
The Payable on Death Account (POD) can provide an easy way for avoiding the probate process.
<!#43END>
Article Source/Courtesy of
: Yuka Hongo, Esq. (Hongo Law Office, LLLC)
This information is not intended to be a substitute for specific individualized tax, legal or estate planning advice as individual situations will vary. HawaiiEstateAndTrust.com nor its registered representatives or employees, offer tax or legal advice. As with all matters of a tax or legal nature, you should consult with your tax or legal counsel for advice.
<!******* 2 TAB NAVIGATION START******>
Back to the top
ref no:34968 <!HEADER START>
<!TITLE START>

What is a Payable on Death Account (POD)

<!TITLE END> <!SOCIAL SECTION START>
<!HEADER END>

<!#999SPACERStart>
<!#999SPACEREnd>
<!#999SPACERStart>
<!#999SPACEREnd>
Please send questions about this website to
webmaster